Model 9411 Rate 11 Controller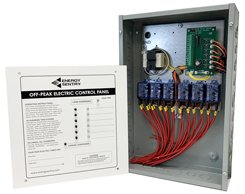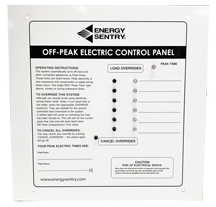 Rate 11 Panels were widely used in Vermont in the 80's and 90's to control electric heat during the On-Peak Time.  Green Mountain Power's residential Rate 11 was used primarily with homes and condominiums with electric baseboard or radiant ceiling heat.  Rate 11 is structured as a 2 tier Energy Time-of-Use Rate that has differential costs for between kilowatt-hours used during the On-Peak time and the Off-Peak time.  The On-Peak Time is Monday through Friday from 1PM to 9PM.  Kilowatt-hours used during On-Peak Time are 26 cents while those used during Off-Peak are 11 cents.   Rate 11 panels automatically force the electric heat off during the On-Peak time but allow the resident, guest or occupant to override the panel as needed if desired.  Electric cost savings was achieved by primarily moving the kilowatt-hours of energy use for heating to the less expensive Off-Peak times.
Brayden Automation's Model 9411 Rate 11 Controller allows the owner to upgrade all of the electronics of the Rate 11 panel to a much newer and more reliable electronics technology, thus insuring reliable operation for years to come.  The Rate 11 Controller includes a control/display panel and relay control assembly.  The 18"x12"x4" NEMA 1 Enclosure is optional. These assemblies fit into the existing enclosures and utilize the existing power relays and control cable, making the installation process quick and easy.

The Rate 11 Panel Controller can also be used with Rate 22 or any other Time-of-Use rate that uses an external signal to initiate the On-Peak time.
Description of Operation
Upon receiving the On-Peak signal from the electric meter or a load management receiver, the Model 9411 system initiates control of all loads connected to the system.  All loads are turned off.  When the On-Peak signal is discontinued, all loads restore within 30 to 60 seconds.  If while the On-Peak signal is being received, and heat is desired, the user simply presses the momentary pushbutton switch for that particular heat zone.  One or more zones may be overridden.  Once the heat is no longer needed, assuming it is still turn the On-Peak time, the override may be cancelled by pressing the "cancel" pushbutton switch.  Upon the transition from On-Peak to Off-Peak all loads are restored and the override cancelled.