9312A Residential Demand Controller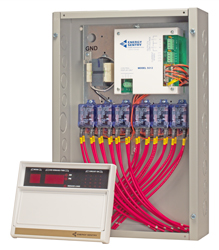 Change your electric demand, not your electric use with the Energy Sentry 9312A.  Since 1978 we've helped customers save money and use energy more efficiently by managing their home's electric use.  Energy Sentry is the leader in controlling peak demand, and to find the best solution for your needs, we'll build and customize a 9312A especially for you.  Change the look of your electric bill and take control with the 9312A.
The Energy Sentry's unrivaled components make it the most advanced and user-friendly design of any demand controller on the market. 
Compact form allows for easy placement and installation
Easy-to-read digital display lets you watch your buildings energy use in action
Remote Display/Control station allows for system monitoring from any room in the house
Tailor it to your individual needs with over 100 different display options
A basic push-button switch and control knob, combined with the digital display make programming simple and convenient
Audible alarm to notify you when you're approaching the demand limit
Programmable to control for either straight demand rates or time-of-use rates
Automatic daylight savings adjustment and season changeover
Can be set to automatically change demand limit up to 12 times per year
Electrical
Voltage Input:
120VAC at .25 Amp MAX
Current Transformer Input:
0-200 mA
Demand Limit Ranges:

9312A: 40KW or 80KW

Demand Limit Resolution:
.5KW on 40KW or 80KW
Demand Display Resolution:
.1KW
Demand Averaging Period:
15, 30, 60 minute
Demand Calculation Update:
< 1 second
Audible Alarm Outputs:
3 audible alarms w/ volume control and on/off settings
Relay Outputs:
8, expandable to 16
Relays:

2 internal SPST-NC low-power outputs 3 Amps at 30VAC/VDC
Available with up to eight 30 Amp DPST-NC relays rated at 300VAC to control up to 16 circuits
Low power 3 Amp remote relays for HVAC control circuits also available

Standard Relay Configuration:
4, 6, or 8 Power Relays
System Settings Memory:
Non-volatile EEPROM/Battery Backed RAM
Mechanical
Size:
18" H  x  12" W  x  4" D NEMA 1 Enclosure
Enclosure:
.060 steel housing
Weight
21lbs.

All specifications are subject to change without notice