Penguin Load Management Timer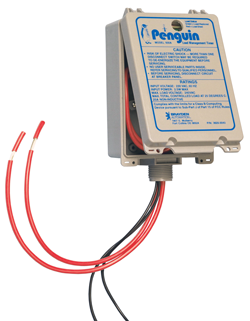 The Penguin Load Timer is an electronic time control unit designed for use with utility load management or time-of-use programs. It attaches directly to the customer's controllable load. Set the timer at the utility's site with the easy-to-use Windows-based Penguin software (provided). It can be set for as many as four control cycles a day, with different schedules for summer and winter, weekdays and weekends. Once programmed, it will operate perpetually. Everything's automatic- no need to reset the schedule from year to year.
The timer consists of a micro controller, a real-time clock module, support circuitry, an RS-232 interface, and a 35-amp power relay.
The Penguin Load Management Timer is the quickest, easiest, most effective way to control loads during peak demand hours. You'll love the low cost, easy installation, and immediate on-peak load reductions!
The Penguin Timer has been used in a number of applications for Time-Of-Use control.
The most common are:
Hot Water Heaters
Air Conditioning Cycling
Lighting Control
Golf Cart and Fork Lift battery charging
Any general electric control that works with on-peak and off-peak times
Utilizes advanced temperature sensing technology to measure accurate air temperature without being affected by wind, rain, momentary cloudiness or reflected solar radiation off the ground or from surrounding objects.
Time and temperature can be used independently or in combination to determine the desired on-peak condition.
Uses reliable fourth generation micro-processor platform for unparalleled reliability
10-year guaranteed battery-backed (non-volatile) memory of system settings and timekeeping
Fully self-contained
Up to four seasonal schedules
Up to 2 on-peak/off-peak periods per day
Variable on-peak/off-peak temperature settings
Historical data log of last 60 off-peak/on-peak transitions
Green LED indicates controller is operating properly, and blinking red LED indicates on-peak status
User Override Switch to allow customer to override controller and "buy-thru" during on-peak times if desired, at the higher on-peak rate
Programmable using Windows-based Penguin Programming Software
Four-wire programming cable is provided by Brayden Automation
3-year factory parts and labor warranty
Electrical
Device Circuitry Designation:
Class1
Input Power:
120VAC at .1 Amp or
240VAC at .05 Amp
Power Consumption:
12 Watts
Relays:
1 Single-Pole power relay, SPST-NC-DB (1 Form Y)
Relay Contact Rating:
Single Pole Relay, 35 Amps at 300VAC
Mechanical
Enclosure Rating:

NEMA 1

Enclosure Dimensions:
Approximately 6" x 4" x 2.25"
Enclosure Material:
LEXAN (polycarbonate) housing meets UL 94V-1 flammability rating
Operating Temperature Range:
0 to +70 C
Shipping Weight:
Approximately 1 lb.