Energy Sentry lowers your electric bill, protects you from high demand charges, and increases your energy efficiency.
Since 1978 we have helped commercial, industrial and residential customers lower their electric bills with a large selection of demand management equipment used to stabilize the peaks and valleys of electric use. By stabilizing electric use, and increasing energy efficiency, you will see reductions in electric costs. Depending on your situation, these savings could be quite substantial.
Wouldn't it be nice to lower your electric bills and put those savings towards other areas of your business or life?
---
What is Demand Management?
you're unfamiliar with the concept of Demand Management, then start with
this simple analogy
to learn more about Demand Management and how a Demand Controller can save you money.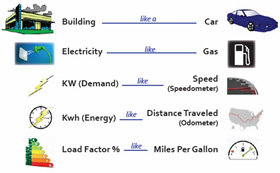 Frequently Asked Questions
Newsletter Archive
PulseConnex
November 2014
Help your customers unlock the greatest secret in the utility industry with PulseConnex. Your customer's energy use will be at their fingertips, online and instantaneous.
---
Recent Testimonials

I would gladly recommend your product and service to everyone."
Walter L.
Buffalo Gap, SD

...the system appears to be saving me between 15% and 30% each month. It's comforting to know that I am doing all I can to reduce my electrical bill."
Robert T.
Virginia Beach, VA

You can't control your energy usage until you know where it is being used, and with Brayden Automation's EnergyAccess monitoring system we have saved thousands of dollars PER YEAR since we first installed it in the 1990s."
Gina P.
Lawrence Tool and Molding