Energy Sentry Accessories

9326 Remote Demand Display

Now you and your employees can watch your building's electric use in Real Time with the 9326 LED Display Station.
Just connect the 9326 Remote Display to your Energy Sentry demand controller or monitor and view electric use information from up to 150' away. The 9326 mimics the selected display mode of the unit's operating screen and allows viewing of all system settings. By making this information readily available, the 9326 will help you identify when and how your peak demand is occurring, making it an indispensable asset in your energy efficiency efforts.
The 9326 is compatible with:

9320 Demand Monitor Series
9388B Demand Controller
9388C Demand Controller
9388M Demand Controller
Internal Alarm
Upon an alarm condition the entire display flashes at 1-second intervals allowing you to easily increase awareness of the approaching peak demand condition
Remote Alarm Hook-up
Allows lights and/or external alarms to be connected to the display to further increase the awareness of an alarm condition
Multiple Displays
Multiple displays can be "daisy-chained" to make information available in two or more locations.  Each remote display contains the driver circuitry to drive the next display.  No additional hardware or software in necessary except the additional 9326 remote display unit and the cable to hook it up
Electrical
Voltage Input:
12VAC
Power:
6VA
Power Transformer:
120:12VAC UL Listed Wall Plug Transformer
Internal Audible Alarm:
One with On/Off selection
Remote Audible Alarm Outputs

One with On/Off selection

Interface to Host controller or monitor:

6 position terminal block

Cable Required:

Cat 3, Cat 5, or Cat5E networking cable

Maximum Distance

150 feet
Mechanical
Digit Height:
2"
Overall Size:
16"L x 4"T x 1.5"D
Shipping Weight:
3 lbs.

All specifications are subject to change without notice

9373A Current Loop Control Module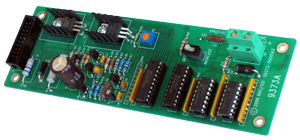 Controlling industrial and HVAC loads using a 4-20mA current loop is now possible with the 9373A Current Loop Control Module.  The model 9373A directly interfaces between the 9388C Demand Management System and a controlled load with a 4-20mA current loop control input. 

The 9373A gives installers and customers an easy, low-cost way to control large loads in commercial and industrial demand control applications without the hassle or time-consuming problem of creating a custom control interface.  The 9373A allows proportional control from 0 to 100% in 9 steps between 4 to 20mA, allowing control loads to be "stepped –down" instead of turned on and off.  This is preferred with large loads that cannot be turned on or off but may be "throttled back".

The 9373A has been utilized in a variety of industrial demand control applications to help control loads such as:
The 9373A was designed with several features to meet your specific needs
Includes positive or negative control slope functions to increase or decrease the current in the loop
Capable of Internal current limiting
8 output steps allow for step control-  permits large loads to be stepped up or down in small increments for a fine level of control
Ability to run wires for long distances and overcome any potential voltage drop issues
Superior noise immunity
Board is conformal coated with polyurethane coating for superior moisture and humidity resistance
Electrical
Power Input:
+24VDC supplied from Model 9388C or 9388M Demand Management Control System.
Input:
8 control inputs are supplied by the Mode 9388C or 9388M Demand Management Control System. Each control input acts as an incremental step of approximately +/2mA of current in the current loop when activated.
Outputs:
One 4-20mA output, approximately 10VDC into a 250ohm resistor.
Maximum Output Voltage:
24VDC
Maximum Output Current:

20mA
Mechanical
Mounting:
Mounts in the Model 9388C or 9388M in one of two output board positions.
Size:
2" wide x 7.5" long
Weight:
4oz
Temperature
Temperature Range:
0ºC to +85º
Humidity:
0 to 98% non-condensing